Language courses abroad for adults
It's a fact: there's no more efficient way to learn a language than using it and being exposed to it in different contexts every day over a length of time. This is precisely what our general courses offer you – the opportunity to receive outstanding language lessons as well as endless opportunities to put your new skills into practice. And that's how you cement knowledge!
Key information
Course duration:
1+ weeks
Entry level:
Beginner - Advanced
Why take a general course?
Enjoy dynamic group lessons in small groups (10-12 students per class on average) led by fully qualified native teachers
Meet and make friends with other international students who share your language goals and interest in the destination of your choice 
Explore your destination through fun and interesting trips and activities that will allow you to delve deeper into the culture
Customize your learning experience by choosing to follow a standard, combined (group + private lessons) or intensive course
More about our general courses
Our general courses last from 1 to 48 weeks and are suitable for all levels. These courses focus on languages for general purposes and cover all four language skills (speaking, listening, reading and writing), following a communicative approach and allowing you to make rapid progress from day one.
Our general courses also offer a choice in intensity:
Standard courses
The standard course teaches the fundamentals of the language, both written (reading and writing skills) and oral (listening and speaking skills). It focuses on the use of the language in everyday situations. This type of course is appropriate for students who want to improve their language knowledge and put it into practice.
Intensive courses
 The intensive course is based on the same model as the standard course, but the pace is more intense and the subjects are covered in more depth. During the afternoon, the class has a more communicative approach and a wider range of conversational subjects is covered. The intensive course is ideal for students who want to make rapid progress.
Combined courses
This kind of course is a combination of both a group course (standard or intensive) and a private course. This type of course would be the ideal solution for those students with limited time, who wish to learn the language in a group and to further and improve their skills individually.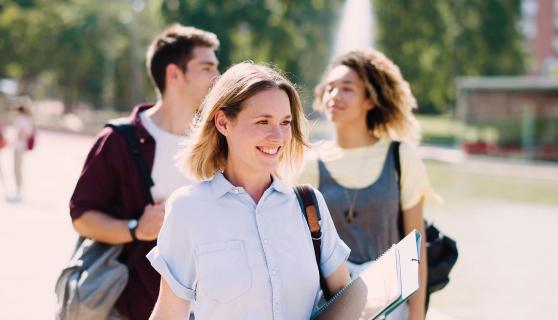 Want to hear more about what we can do for you? Reach out to us for more information, you'll be under no obligation to book! If you'd rather read more about our courses and destinations, don't hesitate to ask for your free brochure.
Frequently asked questions about general language courses abroad
Do you have further questions about studying abroad with ESL?
Get the best deal for your language stay