ESL accreditations
We believe that the quality of our services should be, first and foremost, measured by the satisfaction of our customers, but many international organisations have also chosen to place their trust in us and officially certify our language travel programmes:
English UK partner agency
This label resulted from a merger of two of the most important quality control bodies, ARELS and BASELT. ESL – Language Travel is an official agent of English UK.
 
Membership conditions are as follows:
High quality teaching
Qualified teachers
Detailed programmes
Carefully chosen host families
Students from diverse backgrounds
Business English UK partner agency
ESL – Language Studies Abroad is an official agent for dedicated business language training centres in the UK.
Quality English partner agency
The Quality English label is only accessible to well-respected independent schools offering quality programmes complying with strict standards. ESL – Language studies abroad is an official partner agent.
ALTO Association of Language Travel Organisations
With members in more than 30 countries on the 5 continents, ALTO brings together specialised language travel organisations working according to its demanding quality charter.
Study Travel Magazine Star Awards
ESL – Language Studies Abroad has been repeatedly voted "Star Agency Europe" by thousands of language schools around the world. 
IALC International Association of Language Centres partner agency
This association brings together more than 80 independent language schools with the same quality standards. These are submitted to regular inspections.
WYSE Work Abroad Association
This association brings together companies actively engaged in the organisation or promotion of work abroad programmes. It sets high quality standards for its members and works with governments to promote work abroad programmes.
ESL Education has been recognised by the world leader in event organisation for international education professionals.
El sello de calidad Norma ASEPROCE, auditado externamente por la prestigiosa consultora Lloyd's Register, certifica que los cursos y programas en el extranjero que ofrece ESL son seguros, legales y respetan la normativa vigente. Las empresas miembros de ASEPROCE cumplen con una serie de requisitos imprescindibles que permiten certificar que están en disposición de ofrecer todas las garantías exigibles en los programas de idiomas en el extranjero, respetando la legalidad y ofertando seguridad y solvencia en su gestión. Solicita siempre este sello de calidad cuando contrates cursos en el extranjero: evitarás sorpresas desagradables y tendrás la seguridad de obtener el resultado deseado con la tranquilidad y calidad que garantizan los profesionales de ASEPROCE y sus asociados.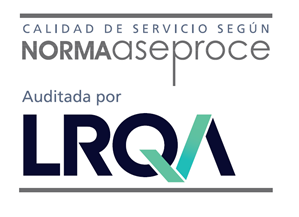 ASEPROCE, Asociación Española de Promotores de Cursos en el Extranjero es una organización sin ánimo de lucro fundada en 1.987 cuyo objetivo es promover la calidad y profesionalidad de las empresas del sector y defender los intereses de los estudiantes. 60 reconocidas empresas y organizaciones de toda España que llevan a cabo su labor con rigor y dentro de la legalidad existente y que, por tanto, pueden ofrecer profesionalidad, experiencia, seguridad y solvencia en la gestión de cursos y programas en el extranjero.
Partner Schools Quality Labels
Offering excellent service and recognised by quality control entities, our partner schools are experts in what they do. Presenting you with only the highest quality schools on the market, we've spent the past 20 years choosing and continuing to follow up with our partner schools to ensure their consistent excellent quality.
Why choose your next journey with ESL
Top-rated and award-winning agency
Our free and personalised services are consistently top-rated on Google, and 97% of our clients recommend us to their friends and relatives. In addition, ESL is a Lifetime Award winner after being voted Best Agency in Europe 5 times at the ST Star Awards.  
Get the price difference refunded if you find a better deal for the same programme with another agency or directly with the school.  
Free counselling and A-Z services
Our teams are experts in language travel and their experience in the industry is both professional and personal. Our free and personalised services go beyond the pre-departure stage – our counsellors will be at your disposal before, during and after your stay. 
We select partner language schools according to strict criteria – high-quality facilities, small class sizes at a range of levels, great location, first-class teaching and an exciting activities program, among other aspects. We regularly visit partner schools as it is very important for us to maintain a strong relationship with our partners and to keep up with local developments.   
Thousands of student reviews
We systematically gather opinions and reviews from thousands of students who chose ESL to go abroad. All reviews are thoroughly checked to ensure authenticity and are added to our school pages so as to provide future students with first-hand details and facts.  
A wide range of quality accommodation options
Our portfolio also includes a large variety of accommodation types, so we can offer each one of our students the most suitable option. From homestays and student residences to private and shared apartments, all our accommodation types are carefully selected for a comfortable and convenient experience abroad.   
Get the best deal for your language stay