Hindi
Hindi-speaking destinations, courses and useful information
Learn Hindi abroad
Do a language stay abroad to learn Hindi! Our fantastic Hindi language courses in India will soon get you travelling around the country as a true local – asking for directions to the awe-inspiring Taj Mahal, haggling for spices in one of its colourful markets or even exploring spirituality next to the Ganges river with the locals. 
 
When you learn Hindi in India, you are one (huge!) step closer to unveiling the mysteries of this enormous and varied country. What's more, Hindi may be the official language in India – along with English –, but it is also spoken in Mauritius, Fiji and Nepal, among other countries. So, chances are you'll find plenty of opportunities to use your Hindi in your travels! 
Our Hindi language destinations
Hindi courses abroad
We're proud to partner with first-class language schools offering a wide range of courses. Whatever your age, goals and level, we have a course for you!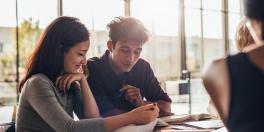 General courses
It's a fact: there's no more efficient way to learn a language than using it and being exposed to it in different contexts every day over a length of time. This is precisely what our general courses offer you – the opportunity to receive outstanding language lessons as well as endless opportunities to put your new skills into practice. And that's how you cement knowledge!
Learn more
Get the best deal for your language stay