Professional Certificates in Business
Savvy business management is the key to every successful company, no matter the industry. This programme will teach you the ins and outs of the international business world to build the necessary skills to thrive in the labour market – whether it's for a role in an existing company or even starting your own!
English is frequently used as a business language – even among countries that don't speak it natively. Studying a professional certificate in business with ESL will give you complete immersion in industry-specific English during your lessons and unbeatable communication practice while you explore your English-speaking host country.
One of the best ways that you can prepare yourself for your future career is to combine your diploma with real-world experience in an international corporate environment. For this reason, our programmes in Canada and Australia allow you to work a paid internship or half-time work in a company related to your course.
Finance your adventure and gain in-depth industry knowledge while you study business in a fully-immersive English environment!
Canada
Certificate in International Business and Trade (8 weeks)
During this short course, you will learn how to conduct business at an international level while gaining confidence and proficiency in your English. You'll learn the trends and challenges facing international companies while addressing the basic needs of businesses in planning, pricing, distribution channels, and promotion.
Certificate in Business Communication (8 weeks)
Communication is the cornerstone of business, and in this course, you'll learn how to perfect your business communication in an English-speaking environment. In this fast-paced programme, your main areas of study will include customer relationship management, correctly formatting business documents, and improving your writing and presentation skills in a business environment.
Certificate in Business Management (8 weeks)
This certificate is your opportunity to learn about the various aspects of the management system while exploring business law to get a better understanding of how companies operate. You'll familiarise yourself with the various aspects of management while building foundational knowledge for your future career. Taking this course will increase your employability for roles in office administration, management, B2B sales, and more.
Diploma in International Business Management (48 weeks)
In this in-depth programme, discover how traditional business concepts fit into a global context while you build your professional skill set and create international business networks inside the classroom. Lessons will include teaching you how to build bridges across cultures, the effects of globalisation, business law, and much more. This course will give you the fundamental knowledge to begin your supervisory career in an international business or even start your own!
Diploma in Business Communications (48 weeks)
Take your Business-English skills to the next level by fully developing your professional communication through this all-encompassing diploma programme. Throughout the course, you will consistently immerse yourself in English industry vocabulary, learn how to build and maintain business relationships, improve your teamwork skills, and explore your own personal development to prepare for your journey into the world of business. By the end of the diploma, you should be comfortable and confident with navigating the international business world and able to communicate effectively in the workplace.
Australia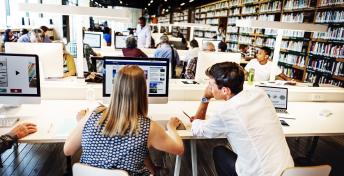 Certificate III in Business – 36 weeks (inclusive of holidays)
This certificate will teach you skills such as: 
Organising tasks
Managing workplace information
Producing business documents
Providing customer service
Communicating effectively
Certificate IV in Entrepreneurship and New Small Business (52 weeks including holidays)
The Certificate IV in Entrepreneurship and New Business is designed to offer a grounding in all that is required to launch your own business, whether your plans are for a one-person microbusiness or the first steps into something much bigger. 
This is a course with a focus on modern-day approaches to marketing, and with a strong emphasis on the legal and financial requirements for a start up business.
Diploma of Business (62 weeks inclusive of holidays )
This diploma includes topics such as:
Successfully lead and manage projects
How to effectively run and coordinate meetings
Carry out recruitment,
Selection and human resource tasks
Plan and implement marketing activities
Interpret market trends and development
Plan and implement administrative systems.
Get the best deal for your language stay