English Plus Film-making
Are you a cinema-addict? Learn English in Los Angeles, the world's film capital! You'll be able to watch your favourite films and TV series in English and discover all the secrets of film-making.
 
This English course will allow you to improve your language skills while studying script-writing, acting, contemporary film and production, as well as learning how to use professional digital editing software. Explore the film industry by meeting all the interesting guests invited by the school (actors, directors, etc.) and visit iconic film locations and studios. 

Kings Los Angeles offers transfer agreements with both the New York Film Academy and the LA Film School.

The English + Film-Making programme lasts for 12 weeks and starts at fixed dates.
 
From June to August, a short, 4-week English PLUS Film programme is also available, as well as a less intensive Vacation Plus Film course. Please contact us for further information.
12-week English + Film studies & Film-making programme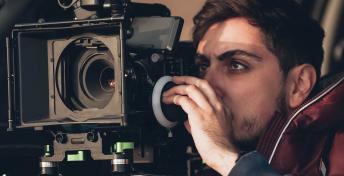 This 12-week programme consists of 28 lessons per week, including 20 film-based English language lessons and 8 practical film-making lessons. Students are also expected to spend a minimum of 4 hours per week on practical course-related work. Together with developing your overall language, practical and creative skills, the following film studies subjects are covered.
Development of contemporary cinema
A thorough study of contemporary film-making, including vocabulary, with an opportunity to put your knowledge into practice during two production cycles. Students learn story structure, how to write a script and the most up-to-date film practice.
History of Hollywood
From the 1920s to the present day
Acting Foundations
Life-study observations
Improvisation techniques
Techniques for role preparation
Acting for the camera
Methods and techniques for film-acting
Angles, working within a frame, playing according to the size of shot
Script development
Concept development
Screenplays, short films and documentaries
Production / postproduction   
Filming techniques: cinematic framing and lighting
Video editing techniques and practice
Short film competition
After classes, rely on your creativity and freshly acquired knowledge to create a documentary or a short film. From script writing to filming and editing, create a film of your own from start to finish.

And, just like in the real movie world, the winner will receive an award during a glamorous Hollywood-style event organised by the school.
English + Film-making (summer short course)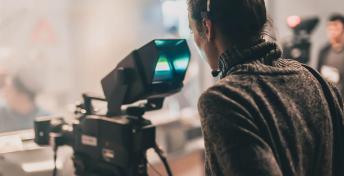 We also offer a shorter version of the English+ Film-Making course, which lasts for 4 weeks and allows participants to experience this programme in a more condensed way.

Our summer programme combines English classes with an introduction to film production, in the very heart of Hollywood!

Two options are available, which both include English classes with a focus on film:
Standard (20 lessons per week, available without a student visa)
Intensive (20+8 lessons per week
Both options follow a cycle of pre-production, production, and post-production theory and practice and include practical scene shoots.
 
To find out more about the school, accommodation options, dates and prices for this exclusive programme contact us.
Do you need more information about our Course Plus Film Making programme?
Please get in touch with our team, or download a brochure:
Get the best deal for your language stay